FIT-Equipex at the 2017 Global Future Network Development Summit in China
/
July 10, 2017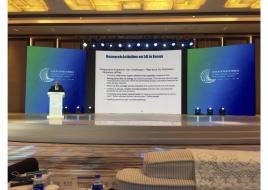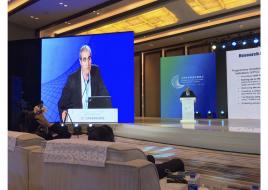 From 17th to 18h April, the 2017 Global Future Network Development Summit took place in Nanjing Jiangning Development Zone (China). Themed with "Innovation and Win-Win Cooperation, Ushering in the Future Development", this summit focussed on the development trends and construction of experiment facilities for future network and experiment application prospects, promoting the government-industry-university-institute collaboration. It conveys a very large audience with the most prominent stakeholders in Asia. An exhibition was also the opportunity to showcase the latest developments in various domains including 5G and IoT.
This 2-days-conference was organized around 10 sub-forums of 4 topics: Future Network and Technology Innovation; Future Network and Application Innovation; Future Network and Economic Development; Future Network and Cyberspace Security.
As a keynote speaker in the main conference opening session, Prof. Serge Fdida, Coordinator of FIT and President of OneLab, gave a presentation about the current situation of 5G research activities in Europe as well as the networking research beyond 5G and the next generation internet. The focus of these presentations was given to EU funding programmes, the current ones, like H2020, and future ones, such as the 9th Framework Programme for Research and Innovation.
Prof. Serge Fdida was also invited to present some concrete examples of applications and projects such as FIT Equipex and Research Infrastructure (French project), ARMOUR, F-Interop and EXCITING (all H2020 projects), and OneLab experimental facility. All these projects are implemented by UPMC's OneLab team, part of LIP6 Laboratory (Laboratory of Computer Sciences).
Further information about the summit: http://www.gfnds.com/en/index.php